Osteo-Form SA Powder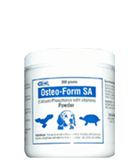 Download SDS
Product Details
Calcium and Phosphorus with Vitamins for Dogs, Cats, Birds, and Reptiles
Indications
For use as an aid in the prevention of dietary deficiencies of calcium, phosphorus and vitamins A and D in dogs, cats, birds and reptiles.
Advantages
Calcium-phosphorus ratio of 1.8-to-1 to aid in correcting deficiencies without adding excess phosphorus
Aids in healing fractures
Vitamins A, D and C, all involved in bone and cartilage metabolism
Ideal for pregnant and lactating bitches and queens
LLOYD, Inc. offers a complete line of quality nutritional supplements and research-proven drug dosage forms.
All LLOYD products are manufactured under strict quality control guidelines to assure consistency and are available through licensed veterinarians.
For more product details, download the product pdf.