Thyro-Tabs® Canine
(levothyroxine sodium tablets), USP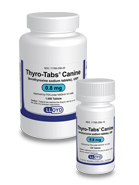 Download SDS
Product Details
The first and only FDA Approved Higher USP Standard Canine T4 tablet
Indications
For replacement therapy for diminished thyroid function in dogs (canine hypothyroidism).
Advantages
First and Only FDA approved canine T4 brand.
First and Only canine T4 brand to achieve Higher USP tablet Standard.
First and Only canine T4 delivers 24-month dose stability.
Now available in

both

1,000-count bottles and 120-count (dispense-ready) bottles.
New 120-count (sealed direct dispense-ready) bottles are designed to fit standard clinic labels,
Levothyroxine T4 is a naturally circulating thyroid hormone produced by the canine thyroid gland. Levothyroxine sodium provided by Thyro-Tabs® Canine tablets cannot be distinguished from levothyroxine endogenously secreted from the dog's thyroid gland. Thyroid hormones influence virtually every body organ, either by their effect on growth and development or by the hormones' metabolic effects.
In light of low canine bioavailability and high absorption variability among individual dogs, reliable dose potency becomes an essential tool toward successful therapy. Advanced Formula Thyro-Tabs® Canine is the only veterinary levothyroxine sodium tablet to provide a minimum 95% dose potency guarantee, as recognized by the USP. As such, Thyro-Tabs® Canine sets a new therapeutic standard in the treatment of canine hypothyroidism.
LLOYD, Inc. offers a complete line of quality products in research-proven drug dosage forms.
All LLOYD products are manufactured under strict quality control guidelines to assure consistency and are available through licensed veterinarians.
For more product details, download the product pdf.
CAUTION: Federal law restricts this drug to use by or on the order of a licensed veterinarian.
---
Additional Product Information