PrednisTab®
(prednisolone tablets), USP; 5mg and 20mg Tablets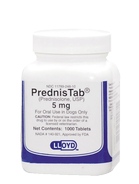 Download SDS
Product Details
Potent Anti-inflammatory and Antipruritic Agent for Dogs
Advantages
Only FDA approved prednisolone tablet for canine use
Short-acting formula for low-level maintenance dosing
Caplet shape for easy dosing
Scored tablets for accurate, convenient administration
PrednisTab is a potent anti-inflammatory and antipruritic agent. Its 12-36 hour duration of effect enables rapid fine tuning and dose individualization to minimize side effects. PrednisTab ensures every patient receives the biologically available medication they need for inflammation, and as such, pet owners get the best value for their dollar.
NADA #140-921, Approved by the FDA
Caution: Federal law restricts this drug to use by or on the order of a licensed veterinarian.
LLOYD, Inc. offers a complete line of quality products in research-proven drug dosage forms.
All LLOYD products are manufactured under strict quality control guidelines to assure consistency and are available through licensed veterinarians.
For more product details, download the product pdf.
Additional Product Information