Cani-Flex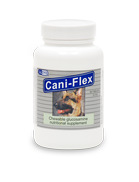 Download SDS
Product Details
Chewable Glucosamine Supplement
Indications
Glucosamine is a naturally occurring compound for the body's production of joint lubricants and components necessary to maintain healthy cartilage and joint function. A precursor and regulator of tissue synthesis, glucosamine stimulates the production of synovial fluid and the complete cartilage matrix, including collagen and hyaluronic acid.
For use as a nutritional supplement as an aid in the protection against articular cartilage deterioration. It has been used in a variety of degenerative joint situations, following surgery, and as a protective agent for younger working or older arthritic pets.
This compound is not recognized as an essential nutrient by the AAFCO dog food nutrient profile and this product is not intended to diagnose, cure or prevent any disease.
Advantages
Palatable chewable tablets for easy dosing
Economical source of glucosamine
Stimulates production of synovial fluid
LLOYD, Inc. offers a complete line of quality nutritional supplements and research-proven drug dosage forms. These tablets are formulated in a palatable flavor base that is eagerly accepted by dogs and cats.
All LLOYD products are manufactured under strict quality control guidelines to assure consistency and are available through licensed veterinarians.
For more product details, download the product pdf.