Derma-Form Liquid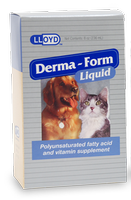 Download SDS
Product Details
Vitamin and Fatty Acid Supplement for Cats and Dogs
Indications
For improvement of dry skin (xerodermia) and dry hair (xerasia) by providing a nutritional source of polyunsaturated fatty acids and vitamins A, D and E in the diet of dogs and cats.
Advantages
Provides vitamins A, D and E
Contains lecithin and other emulsifiers to facilitate assimilability
Contains essential fatty acids
Highly palatable fish flavor that does not smell or give the animal fishy smelling breath
Derma-Form nutritional supplements provide polyunsaturated fatty acids plus nutrients necessary for improving and maintaining coat and skin health in mature dogs and cats. Derma-Form is available in two forms for dosage flexibility. Mixes easily with food.
LLOYD, Inc. offers a complete line of quality nutritional supplements and research-proven drug dosage forms. This product is formulated in a palatable flavor base that is eagerly accepted by dogs and cats.
All LLOYD products are manufactured under strict quality control guidelines to assure consistency and are available through licensed veterinarians.
For more product details, download the product pdf.