Bloat-Pac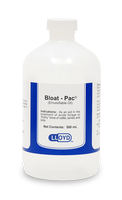 Download SDS
Product Details
Concentrated Emulsifiable Oil to Aid in Treatment of Bloat in Cattle, Lambs and Kids
Indications
For use as an aid in the treatment of bloat in cattle, lambs and kids
Administration
Administer orally or by direct injection into the rumen with a large gauge needle between the hip bone and rib cage in the left flank area.
Advantages
Designed to treat acute or "frothy" bloat
Has been reported to be effective in treating "dry" bloat
Bloat Treatment Protocol
Concentrated Bloat-Pac for use by the veterinary practitioner for the initial treatment of bloat
Dispense Rumen-Eze to the animal owner for use as a follow-up treatment should the bloat condition re-occur
All LLOYD products are manufactured under strict quality control guidelines to assure consistency and are available through licensed veterinarians.
For more product details, download the product pdf.