W. Eugene Lloyd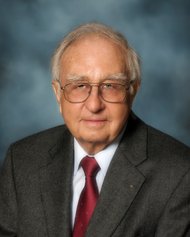 Dr. W. Eugene Lloyd is the Chairman of the Board of LLOYD, Inc.  In 1958 he founded the company, Vet-A-Mix, which today is known as LLOYD, Inc. Dr. Lloyd received his DVM from Iowa State College in 1949 and his PhD from Iowa State University in 1970. Dr. Lloyd has years of professional and vocational experience, including 28 years as the CEO and chairman of LLOYD, Inc., 11 years as a professor of Veterinary Pathology and Toxicology, 16 years as president of Vet-A-Mix, 15 years of veterinary practice, 1 year in the U.S. Army Specialized Training Program, and 2 years in the U.S. Navy and Fleet Marine Corps.
Dr. Lloyd is involved in many affiliations and honor societies, including Phi Zeta and Gamma Sigma Delta. He is a member and was past president of the American Board of Veterinary Toxicology. He is also a member of the American Academy of Veterinary and Comparative Toxicologists, the American Veterinary Medical Association, and the Iowa Veterinary Medical Association.
Throughout the years, Dr. Lloyd has found the time to be an active member of the community, partaking in Rotary Club, Presbyterian Church Boards, the Shenandoah Chamber, a charter member of Greater Shenandoah Foundation, and many, many others.
During Dr. Lloyd's career, he has achieved many awards and honors.  He was SCORE Iowa Exporter of the Year; was awarded the Stange Award from ISU College of Veterinary Medicine; was an Iowa Walk of Fame Honoree; and received the American Board of Veterinary Toxicology Service Award, among several other awards throughout his career.  He is a member of the Iowa State University and Iowa Western Community College Foundation Boards and has served on Executive committees of two major Iowa State University funding campaigns.