Avi-Con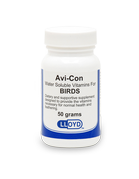 Download SDS
Product Details
Water Soluble Vitamins for Birds
Indications
Dietary and supportive supplement designed to provide the vitamins necessary for normal health and feathering.
Advantages
Scientifically formulated for birds
Supplies 13 essential vitamins
Provides a measure of safety for birds with special requirements
Easy continuous administration
Use in water or food
LLOYD, Inc. offers a complete line of quality nutritional supplements and research-proven drug dosage forms.
All LLOYD products are manufactured under strict quality control guidelines to assure consistency and are available through licensed veterinarians.
For more product details, download the product pdf.