Equ-Lin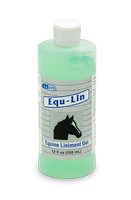 Download SDS
Product Details
Equine Liniment Gel
Indications
A liniment for use in horses as an aid in the temporary relief of minor stiffness and soreness caused by overexertion.
Advantages
Deep penetration into muscle
Pleasant aromatic light scent
Gel allows product to stay on applied area
LLOYD, Inc. offers a complete line of quality products for various species.
All LLOYD products are manufactured under strict quality control guidelines to assure consistency and are available through licensed veterinarians.
For more product details, download the product pdf.