ClindaRobe® Capsules
Clindamycin Hydrochloride Capsules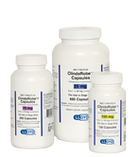 Download SDS
Product Details
Antimicrobial for use in skin, dental and bone infections
Indications
Your first-line dental antibiotic offers so much more. From wounds to fractures, infections to abcesses, ClindaRobe gets the job done in the fight against susceptible aerobic and anaerobic bacteria. With high patient tolerance and market-leading cost efficiency, ClindaRobe provides the clinical efficacy you demand with the optimal quality you've come to expect from LLOYD, Inc.
Available in 25mg and 75mg strengths.
All LLOYD products are manufactured under strict quality control guidelines to assure consistency and are available through licensed veterinarians.
ANADA# 200-383, Approved by FDA
Caution: Federal law restricts this drug to use by or on the order of a licensed veterinarian.
Additional Product Information