Butorphic® is Back!
Butorphic INJECTION (butorphanol tartrate sterile solution) in convenient 20mL vials is again available for sale to LLOYD distributors and their customer accounts.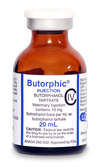 Butorphic has been on a long term backorder since 2011, but is now again available for purchase.
Butorphanol tartrate has long been a staple in veterinary medicine for fast acting relief of moderate to severe pain. Butorphic delivers this staple product to you and your customers in the ultra-convenient 20mL vial with the quality you know from LLOYD products. LLOYD's 20mL vial is the ideal size for clinic use and we are happy to again provide that desired package size.
Contact any LLOYD distributor to order Butorphic today.
Click here to see the current promotion on Butorphic.